Service area details
Population of Service Area                                      
1,700,000
Miles of Transmission Line
230kV
700
115kV
1,570
500kV
500
Miles of Distribution Lines
19,000
Miles of Natural Gas Distribution Mains
7,990
Percent of Utility Operating Revenues by Jurisdiction—Retail Revenue (Actual Sales to Customers)
Washington                                                       
62.51%
Idaho
29.48%
Oregon
8.02%
Our Power Supply Mix
Total Hydro (Includes Long-Term Contracts)
51%
    › Company-Owned Hydro
42%
 
    › Long-Term Hydro Contracts
9%
 
Natural Gas
34%
Coal
9%
Biomass
2%
Wind Contract
4%


=100%
Generation Capability of Company-Owned Resources (Megawatts)
Hydroelectric
Cabinet Gorge (Clark Fork)                     
273.0
Little Falls
30.3
Long Lake
88.0
Monroe Street
15.0
Nine Mile
34
Noxon Rapids (Clark Fork)
562.4
Post Falls
11.9
Upper Falls
10.2
Total Hydroelectric Capability
1,024.8
Thermal Generation
Boulder park                                                     
24.6
Colstrip Units 3 and 4

222.0
Coyote Springs 2
295.0
Kettle Falls (Biomass)
53.5
Kettle Falls CT
6.9
Northeast CT
64.8
Rathdrum CT
166.5
Total Thermal Capability
833.3
Total Generation Capability
1,858.1
Electric Load
Electric Average Hourly Load (aMW)
1,034
Peak Electric Native Load Required for 2016
Retail—Winter
1,555
Retail—Summer
1,716
Forecasted Electric Energy Requirements (aMW)
System Load—2018
1,155
For more quick facts, including financial information for both electricity and gas, download the brochure.
We provide electricity to nearly 340,000 customers and natural gas to about 300,000 customers across 30,000 square miles and four northwestern states.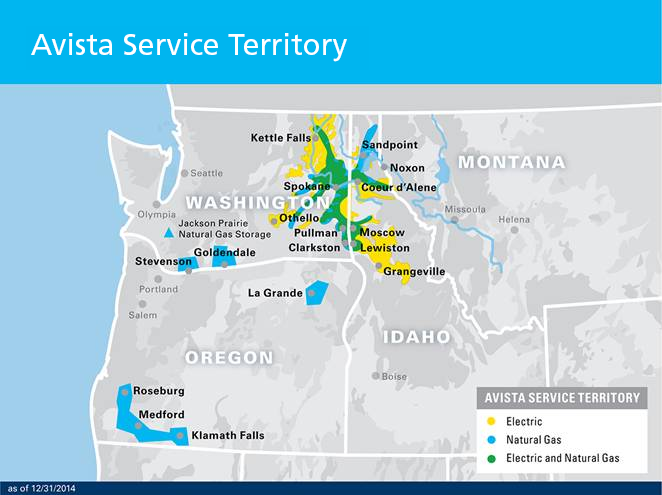 Our diverse generation system allows us to produce energy that consistently ranks among the nation's most competitively priced. It includes:
Eight hydroelectric generating plants on two rivers.
Coal, natural gas and wood-waste combustion plants in five eastern Washington, northern Idaho, and eastern Montana locations.
Pipeline access to domestic natural gas, as well as Canadian supplies, that allows us to capture market opportunities and increase cost efficiencies for our growing number of natural gas customers.