A friend of mine sent me a card in the snail mail last week. Just because. It was so nice—during this pandemic, I don't get to see many of my friends that often, and the card made me pretty happy.
That is the only kind of mail I like. Unless it's a package from someplace I shopped online. The bills in the mail I can do without.
Last month when I was looking through Avista's website, I noticed a link to enroll for paperless billing. Like many people, I pay all of my bills online these days. I don't have to worry about running out of stamps, envelopes or paper checks, I just log in and pay my bill. Since I'm paying paperless, I should be able to get my bill that way, too.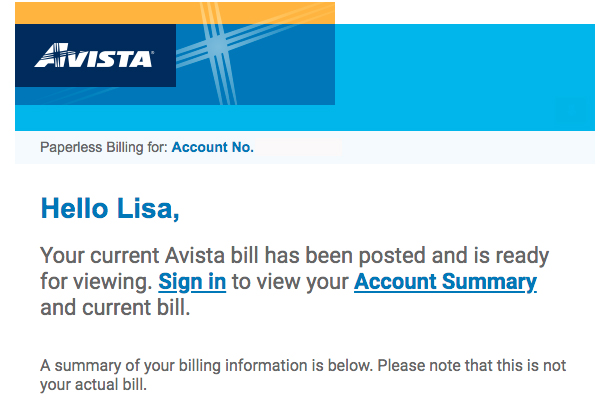 When I bought my house, one of the first things I did was create an account at myavista.com. I keep an eye on how much energy I'm using and what my bill is going to be. I clicked on "My Enrollments" and it led me to several options: paperless billing, comfort level billing and more. I just clicked one box and I was in.
A couple of days ago, I got my first bill via email. I clicked on the link included in the message and I was directed to myavista.com to pay. It's way more convenient than paying by mail.
Lisa, an Avista customer, bought her 1910 house because she loved the old-world character, some of which doesn't make her house very energy efficient. Lisa is sharing her experience on taking some simple do-it-yourself improvements to inspire others to do the same. You'll find her stories right here every Tuesday morning.