Causes of Power Outages
Types of Power Outages
You'll receive a notice from us if we're performing planned work that might interrupt your service. For example, we'll turn off the power when we perform maintenance or upgrade equipment. Here's our process:
We'll let you know a day in advance.
We'll give you a time range, and try to be as accurate as possible.
Weather and operational issues may cancel a scheduled outage.
Here's how you can prepare for a scheduled outage:
Keep refrigerator and freezer doors closed.
Buy additional ice if necessary.
Learn how to manually open your security gates and garage doors.
Notify any security companies that monitor your home or business.
Protect computers, television and other sensitive equipment from surges by unplugging them.
If your power goes out and you didn't receive a notice from us, report it. Or, call us at (800) 227-9187.
Weather
Lightning, wind, rain, snow, ice, even excessive heat and cold, can all impact electrical equipment.
Animals
Sometimes squirrels, raccoons or other animals come into contact with electrical equipment, and power goes out.
Trees
Fallen trees that bring down power lines, branches that become entangled with the lines—sometimes nature finds a way to interfere, despite our best efforts.
You can help us manage some of these natural elements. Visit our Tree Safety section to learn more about keeping trees in check.
Pole fires
While it's an infrequent occurrence, wood power pole fires can happen. After a long spell of dry weather, dirt covering the insulators that connect the wires to the top of power poles becomes conductive when exposed to moisture, such as a rain shower, creating a path for electricity to travel from the wires to the pole. If this "dirt path" gets hot enough, the wood pole catches fire. This phenomenon can happen anytime there is build up on the insulators, such as after the winter thaw or following a long, hot summer.
Mast damage
In some instances, our power lines connect to your home through a piece of equipment called the overhead mast: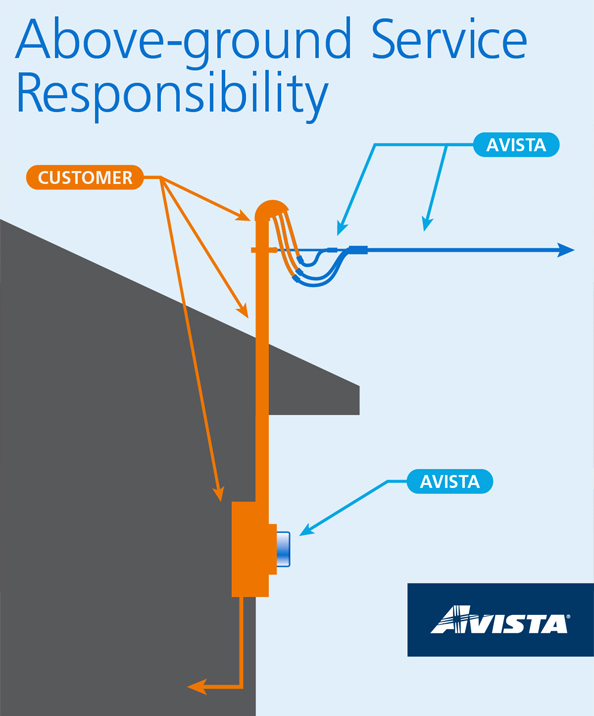 Here's how it might cause an outage:
If a tree falls into it, or a branch gets entangled, the overhead mast bends away from the house.
Or, the fitting might break, compromising where the wire connects to the meter.
We might have to shut off your power as a result of either of these events. And, we'll need your help ---for safety reasons, we have to ask you to have a licensed electrician make the repairs before we can turn the power back on.