Tips, programs and resources
With thoughtful planning and proper tree selection, you can enjoy your landscape for years to come, without worry that your favorite trees and shrubs could become a hazard.
Trees play vital roles in our communities and on our properties – providing privacy, shade, added property value and more. Planting the right tree in the right place can eliminate the need for Avista to trim or remove a tree growing too close to a power line, plus it can help reduce power outages.
Below, you can find proactive and preventive programs that ensure the plants you treasure can flourish.
Right Tree Right Place standards benefit entire communities by preventing unnecessary outages caused by tree damage. No one wants their vegetation to be responsible for an extended outage. Right Tree Right Place protects homeowner investments while also protecting the safety of our communities.
If you're thinking about landscaping your property or are curious about whether you have the right trees in the right places, ask your local county extension office, reputable plant nursery or city parks department. Use our Right Tree Right Place brochure as a guide when you're shopping for your next tree to prevent undesired utility trimming in the future.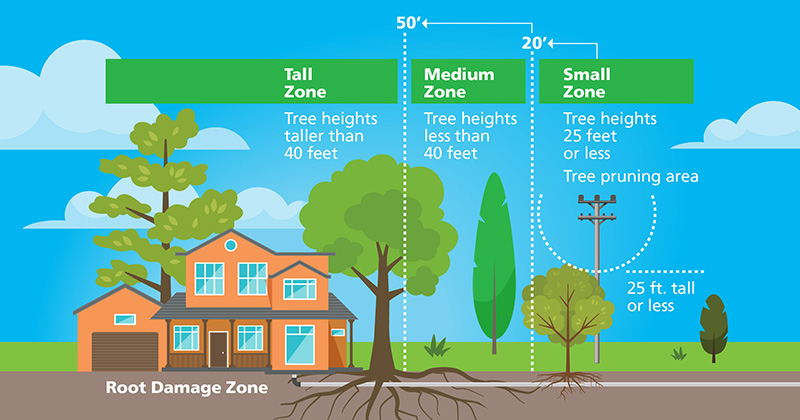 If you own a tree beneath a distribution line that we assess and determine is too fast-growing to maintain, you may qualify for our Cycle Buster Tree Replacement Program.
This program is offered at no-cost to our customers through a partnership with the National Arbor Day Foundation and includes the removal of the existing tree, the chipping of its branches, and the home delivery of a new tree. The new tree will be utility friendly, ensuring it will not pose a future threat to our energy infrastructure.
Contact us at (800) 227-9187 to see if you have a tree that qualifies for this program.
Our vegetation management program plays a key role in keeping our communities connected to the safe and reliable energy they depend on. Its success relies heavily on strong partnerships with customers like you.
For a no-cost inspection and mitigation assessment, please contact us at (800 )227-9187 if you see:
Visibly dead, diseased or dying trees near our distribution or transmission lines
Broken branches entangled in or hanging from our distribution or transmission lines
Arcing or sparking on power lines caused by tree branches