How we provide clean, reliable power at reasonable rates.
The energy we produce at Avista-owned generating facilities and our long-term contracts ranks the company as one of the cleanest utilities when it comes to greenhouse gases, and our prices are among the lowest in the nation among investor-owned utilities.
Our diverse energy mix as of December 2022 at Avista-owned generating facilities and long-term contracts balances reliability with renewable energy sources while managing costs for customers.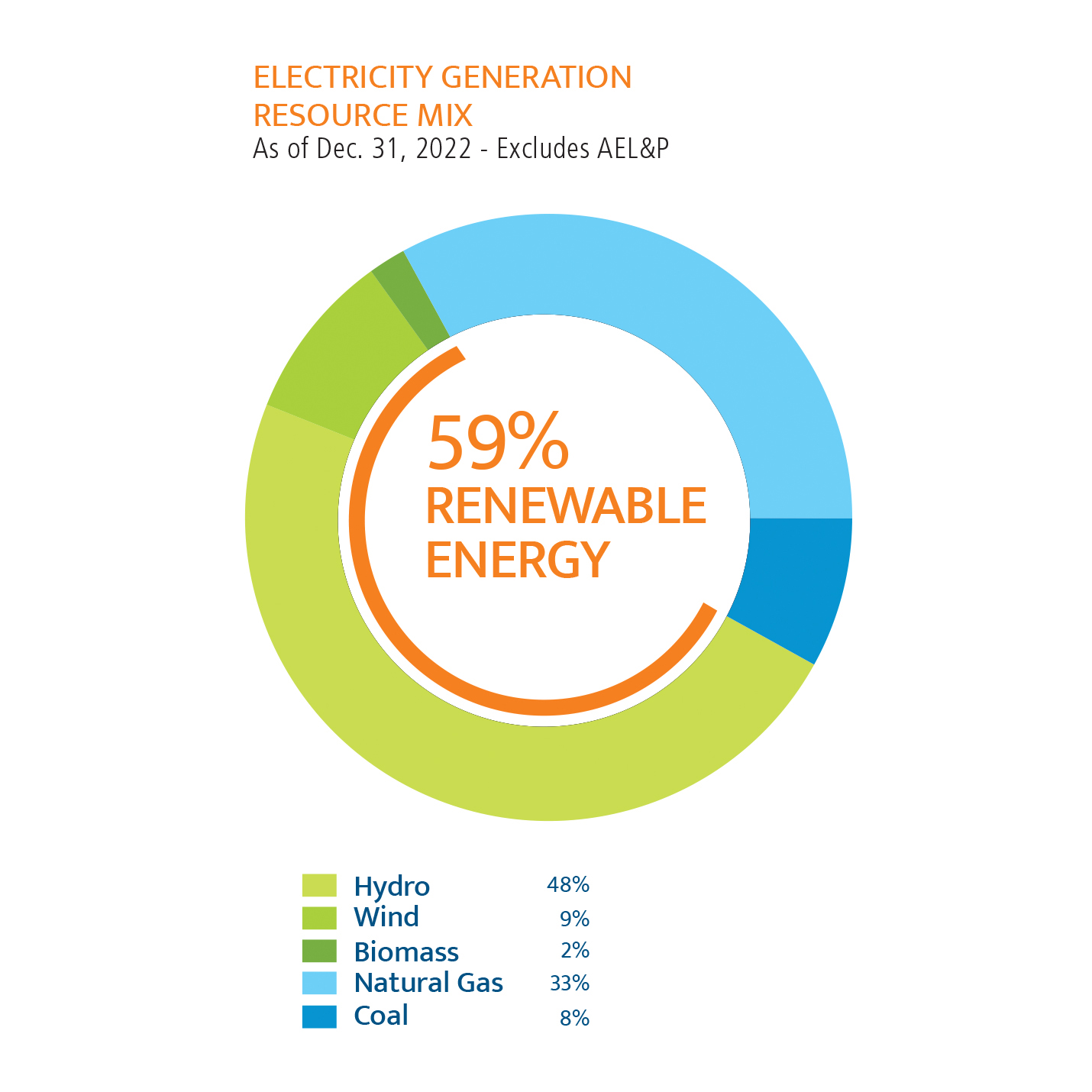 In addition to the diverse mix of fuel we use to generate power, we also have long and short-term purchased power contracts in place and we purchase power on the wholesale market. It all adds up to a diverse energy mix that provides our customers with clean, reliable power at fair, reasonable rates. Avista-owned generation includes eight hydroelectric projects and eight thermal generation facilities. We also have long-term contracts for additional hydro and wind power. Approximately 60 percent of company-owned generation is renewable energy.
In addition, customers purchased the environmental offsets associated with over 81million kilowatt-hours of new renewable wind and solar power in 2021 through Avista's My Clean Energy program. These participating customers paid for and received the benefit of the renewable energy offset, so it is not reported in Avista's energy mix.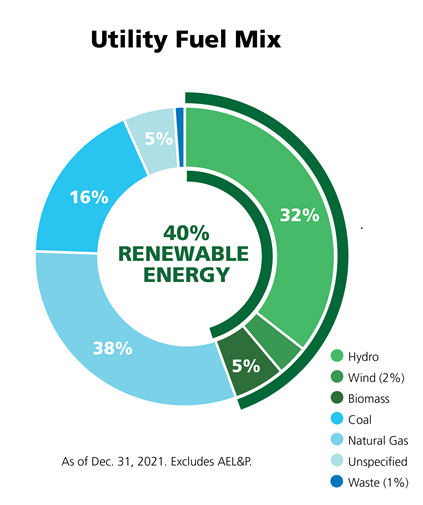 This chart shows how the system actually operated in 2021. It's different than the graph above which shows how much of each type of electricity we could produce if everything was running at the same time.
Fuel Mix Disclosure - Washington State Department of Commerce
Avista will enter the Western Energy Imbalance Market (EIM) administered by the California Independent System Operator (CAISO) in March 2022. The Western EIM began in November 2014, and currently has 14 committed utilities encompassing 70% of the load in the Western Interconnection. It is a real-time voluntary bulk power trading market, the first of its kind in the western United States. The EIM's advanced market systems automatically calculates the lowest-cost energy profile and sends dispatch signals every 5 minutes to serve real-time customer demand across a wide geographic area. Participating utilities maintain control over their generation assets, and remain responsible for balancing generation and load requirements, while sharing market benefits.
Hydropower provides almost 98% of the total renewable generation in the United States. It doesn't pollute, contribute to acid rain, deplete the ozone layer, or contribute to global warming. It's economical and low-cost---hydro plants are long-lived and usually less costly to maintain and operate than steam-fired (fossil fuel and nuclear) plants. More facts:
Hydropower plants produce no carbon dioxide, no sulfur dioxide, no nitrous oxides – no air emissions at all.
Hydropower plants produce no solid or liquid wastes.
Hydropower is reliable and immediately available upon demand, 24 hours a day, 365 days a year.
Water in reservoirs from the hydropower cycle can be stored and used for hydroelectric power production, flood control, irrigation, recreation, transportation, and fish and wildlife habitat.
Post Falls Hydroelectric Development
Licensed Generating Capacity: 15 Megawatts
Dam Height: Up to 64 Feet
Generating Units: 6
Location: northern Idaho, nine miles downstream of Coeur d'Alene Lake
Did you know: Five of the six generating units have been operational since 1908.
How it works: The development includes a dam in each channel. Besides producing electricity, the development affects water levels in Lake Coeur d'Alene and parts of the Coeur d'Alene, St. Joe and St. Maries rivers during the summer recreation season.
Upper Falls Hydroelectric Development
Licensed Generating Capacity: 10 Megawatts
Dam Height: 35 Feet
Generating Units: 1
Location: constructed on two separate river channels in the heart of downtown Spokane
Did you know: The surrounding Riverfront Park was the site of the 1974 World's Fair How it works: The diversion dam is located on the river's main channel. It diverts water through the south river channel, past the Spokane Convention Center and Red Wagon, and into the development's intake structure. Here, via an eighteen-foot diameter underground pipe called a penstock, the water is directed downhill to the powerhouse where it is used to generate electricity then returned, unaffected, back into the main river channel.
Monroe Street Hydroelectric Development
Licensed Generating Capacity: 15 Megawatts
Dam Height: 24 Feet
Generating Units: 1
Location: The core of downtown Spokane, constructed at Spokane's Lower Falls. Did you know: We've been producing power from here since 1890, longer than any other hydroelectric facility in the state of Washington.
How it works: Five state-of-the-art generating units produce twice the electrical power of 1900-era turbines, while using the same amount of water flow.
Nine Mile Hydroelectric Development
Licensed Generating Capacity: 26 Megawatts
Dam Height: 58 Feet
Generating Units: 4
Location: South of the Charles Road Bridge
Did you know: Both the plant and the cottages are listed on the National Register of Historic Places.
How it works: The development consists of four turbines (two of them new) an automated spillway and cottages, one of which will become an administrative facility.
Long Lake Hydroelectric Development
Licensed Generating Capacity: 71 Megawatts
Dam Height: 213 Feet
Generating Units: 4
Location: On a horseshoe bend on the Spokane River, between Lincoln County and Stevens County about 30 miles (48 km) northwest of Spokane. Did you know: Billed as the "world's highest dam" when completed in 1915, it took more than 500 workers during construction.
How it works: Water flows from behind the 593-foot-long, 213-foot-high dam through four pipes (penstocks) into the powerhouse. There, it spins turbines and then returns to the Spokane River.
Just along the Clark Fork river sits two of our largest hydroelectric dams. Cabinet Gorge and Noxon Rapids generate more than 800 megawatts of reliable hydroelectric energy for the Pacific NW. While they work, we're working on restoring the habitat for threatened bull trout, improving wetlands, monitoring water quality, safeguarding cultural and historic resources, and enhancing recreation sites.
Cabinet Gorge
Constructed: 1952
Licensed Generating Capacity: 263 MW
Dam Height: 208 feet
Generating Units: 4
Location: Northern Idaho
Did you know: 1,700 people worked around-the-clock in order to help solve the critical Northwest energy shortage of the late 1940s and early 1950s, completing it in just 21 months.
How it works: Cabinet Gorge is a concrete arch dam with four turbines that generate 263 megawatts, the second-largest capacity of our hydroelectric facilities. Each turbine can spin at 120 revolutions a minute. While the dam and powerhouse are located in Idaho, most of the reservoir lies in Montana, surrounded by abundant camping and wildlife viewing opportunities.
Noxon Rapids
Constructed: 1959
Licensed Generating Capacity: 488 MW
Dam Height: 260 feet
Generating Units: 5
Location: Northwestern Montana
Did you know: The reservoir is one of the top bass fisheries in the state of Montana.
How it works: A $45 million upgrade of all four turbines was recently completed, and allows us to generate more power with the same amount of water. It has an energy producing capacity of 488 megawatts.
The first electric generating station of its kind constructed within the United States for the sole purpose of producing electricity from wood waste, Avista's Kettle Falls Generating Station has been generating renewable, dependable energy since 1983. Here's how:
Steam. The plant burns wood waste from sawmills to produce steam.
Output of 53 megawatts of electricity. Steam runs a turbine and generator that produces the electricity.
A natural gas-fired combined-cycle combustion turbine. Produces 8 MW. That brings the electricity output of the entire plant (including biomass and natural gas-fired operations) to 61 MW; enough electricity to power nearly 46,000 homes.
About Biomass Energy
The term "biomass energy" refers to the organic matter in trees, agricultural crops and other living plant material burned to create energy. Here's how it's done.
Wood waste – called "hog fuel" – is fed into a seven-story furnace/boiler and burned, creating heat.
The walls of the furnace/boiler consist of pipes filled with water that are heated by the burning hog fuel.
The optimal burning temperature is 2,000 degrees, resulting in a steam temperature of 950 degrees.
The heated water generates stream and pressure that drives a turbine, which turns a generator, creating electricity.
The plant burns 70 tons (140,000 pounds) of wood waste per hour during full operations. That amount of fuel would fill two fully loaded semi trucks.
The plant removes 99.9 percent of particulates from flue gas prior to leaving the stack. (.052 pounds of particulate is released per ton of fuel burned.)
For more details on the Kettle Falls Generating Station, download the brochure. For details on the process of turning wood to watts, download the brochure.
Energy we use
Speaker 1: As an Avista customer, you're getting some of the lowest cost, cleanest energy in the country, so how do we do it? Well, it's partly through what we call our diverse energy mix, water, wind, biomass, natural gas, even coal. Each of these resources plays an important role in our electricity generation but for different reasons. Because electricity can't be stored in large quantities, it needs to be generated to meet demand. Generation and consumption are literally matched, real time, within seconds. In fact, if you were to flip on a light switch right now, we would immediately respond by slightly increasing our output to provide that electricity so fast you don't even notice it. 
Now, in order to create energy, you need fuel. That fuel can be nearly anything that creates the mechanical motion required for the generation of electricity, like wind, which blows, spins a turbine, and turns a generator or natural gas, which is burned to create heat, which boils water into steam, which spins a turbine. You get the idea. 
Some utilities rely on one resource to generate electricity, like hydro power, but our goal at Avista is, not only to provide reliable energy, but also to do it at the lowest possible cost for our customers, so we've diversified. Hydro power makes up roughly half of our resource mix. It's clean and inexpensive. If we have a dry winter with limited snow pack though, there may not be enough water in the spring and summer months to provide the electricity we need. Wind, it's good and has become more affordable in recent years, but because the wind doesn't always blow, it's not dependable and when it's really cold or really hot out, demand for energy peaks, so we can't rely on an inconsistent resource like wind to solely meet that demand. 
On the other hand, natural gas provides us with a much more consistent fuel supply. The price Avista pays for natural gas depends on the market and right now, prices are low. Natural gas remains one of the cleanest and most abundant energy resources we have available. 
Another great asset in our diverse energy mix is the biomass plant in Kettle Falls which uses wood waste to generate electricity. This is also one of our renewable resources. With coal, we have a stable energy source and a stable price, but it's not as clean burning as natural gas, even with proven and effective emissions controls in place. Even though less than 10% of our generating capacity comes from coal, it can be a critical resource if gas prices go up or if there's no snow in the mountains or the wind isn't cooperating. 
A diverse energy mix helps keep our prices among the lowest in the nation. It's also why Avista is ranked one of the cleanest utilities among the hundred largest power producers in the United States. It's how we'll be able to continue to provide reliable energy to our customers now, and well into the future. 
Producing electricity
Speaker 1: To turn darkness into light is more simple and more complicated than you might think. First, you need mechanical energy or motion. That can be accomplished with the force of falling water, with wind, or with heat. While water and wind are direct sources of mechanical energy, heat is a little different. By burning fuels like natural gas, coal, or biomass, or even by harnessing nuclear reactions, heat turns water into steam. The pressure from that steam creates mechanical energy. Using magnets, a generator converts mechanical energy into electrical energy. The electricity that's generated is sent at a high voltage over transmission lines to a substation. There it's converted to a lower voltage for distribution over the lines connected to your home or business.
Electricity cannot be stored in large quantities. It must therefore be generated to meet demand. A diverse resource mix that includes renewables like hydropower and wind, combined with fuels like natural gas and biomass, means your electricity will be there when you need it, and even when you don't. 
Bringing you reliable energy: Supply and Demand
Speaker 1: Unlike a lot of goods like clothing or furniture, electricity can't be made ahead of time, packaged and shipped to retailers. It has to be generated to meet real time demand. In other words, every time you turn on a light switch, we increase our generating output ever so slightly to deliver the electricity you need. It's a delicate balance between supply and demand. A balance that involves managing a diverse resource mix to produce energy based on a prediction of much our customers will need at any given time. 
Not only are we thinking about today's usage, we're also forecasting tomorrow's as well. So we can make investments in generation and distribution based on where we believe energy consumption will be 5, 10, even 20 years from now. For example, we anticipate adding nearly 100,000 customers to our service area by the year 2021, bringing with them a 1.6% annual growth in electricity demand. How will we then meet that incremental need in a responsible, environmentally sound matter and at a reasonable cost to our customers?
There are really only three ways. We could buy excess electricity on the open market as needed. We could build additional power plants. Or we could enact efficiency measures to conserve the resources we have like implementing system upgrades and improvements. Or helping our customers be more efficient with their energy usage. The right answer isn't always clear.
So we obtain input from customers, consumer advocates, universities, utility peers and both state and federal agencies to help us make the most informed decisions possible. Every two years we develop a plan for the future. A roadmap for meeting customer demand while balancing costs, reliability, and renewable energy requirements. It's a big job but it's the kind of challenge that for 125 years now has shaped the character of our company and led to some of the most innovative thinking in the industry.