Safety Tips for Natural Gas Contractors
How to Keep Your Client's Property Safe From Natural Gas Leaks and Other Issues
You know better than anybody — gas, electric and other utility lines are just about everywhere. Help us keep it all intact.
811: The national Call Before You Dig number
Call at least two business days before you start digging (it's the law!).
811 locates need to be under the name of the person who is doing the digging.
Take precautions if you smell or hear a gas leak during your work.
Call us immediately at (800) 227-9187, and follow these steps:
Don't smoke, light matches, turn your electrical switches on or off, use the telephone or do anything else that might create a spark.
Evacuate everyone in the area, and keep others away.
If you dig into or nick a line, call us immediately at (800) 227-9187. Never try to fix a damage natural gas line or restrict the gas flow in any way. Avista needs to inspect the line.

Learn more about excavator safety near natural gas pipelines.
While you work
Know how long the locates are valid—it varies by state.
There is a 2-foot (24-inch) tolerance on either side of the markings and we recommend you hand-dig to expose and determine the exact location of the underground facilities before you proceed with mechanical excavation. Depths are not guaranteed.
Support exposed gas pipelines with secure nylon straps, wood shoring, or ropes so they don't break or rupture.
Use sand or rock-free dirt as backfill.
If you find gas or electric lines that haven't been marked, stop work and call us. Phone number is at the bottom of your locate ticket.
Know what's below
Use this color coded chart to keep track of what type of utility line might be on the property.
Utility line color coding
The color of the paint, stake or other marker indicates what's below:
Proposed Excavation
Temporary Survey Markings
Electric
Gas / Oil
Communications / Cable TV
Water
Reclaimed Water
Sewer
Colorless, odorless and lighter than air, natural gas becomes combustible when mixed with air and exposed to an ignition source. To help you detect a gas leak quickly, we add a sulfur-like, rotten egg stench. But here are a few more signs, plus some preventative steps you can take.
Look out for these signs.
Blowing or hissing sounds.
Dust blowing from a hole in the ground.
Continuous bubbling in wet or flooded areas.
Dead or discolored vegetation in an otherwise green area.
Pilot lights that won't light but still emit gas.
Prevent gas leaks.
Secure your natural gas water heater to a wall so it won't fall over.
Store all flammable materials away from natural gas appliances.
Keep the area around your furnace and water heater clear.
Keep combustible materials away from gas appliances.
Teach children to stay away from the gas range and all gas-burning appliances.
Keep ranges and ovens clean to avoid grease fires.
Never use the oven or range to heat a room. 
Don't let children swing from gas pipes.
What to do if you smell gas.
Don't do anything that could create a spark. Smoking, matches, turning electrical switches on or off, even using the telephone could start a fire.
Evacuate everyone from the area, and keep others away.
Call

911

and Avista at

(800) 227-9187

from a neighbor's home.
Stay away from your home or building until Avista says it is safe.
Never try to fix a damaged natural gas line or restrict gas flow in any way. Avista needs to inspect the line.
What else you can do: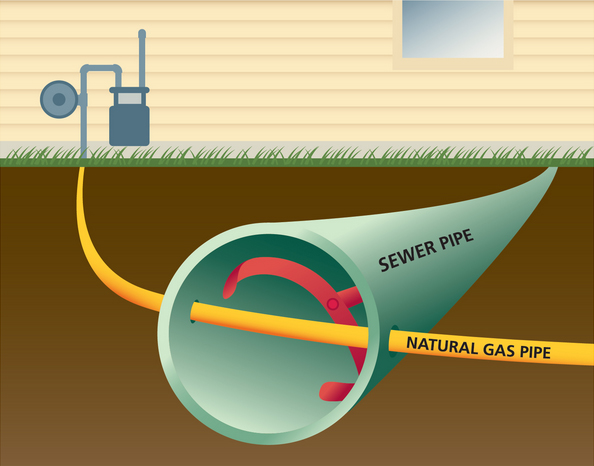 You may encounter a gas line that was inadvertently bored through a sewer line. If you're cleaning out a sewer line with a rooter device:
You may see these signs:
Bubbles rising through standing water or in the toilet bowl.
A strong natural gas odor at the cleanout or inside the building served by the sewer line.
Dirt blowing from a hole in the ground.
A hissing or whistling noise.
An area of dead vegetation.
Act quickly:
Evacuate everyone immediately and leave the building's door open.
Don't turn on or off any light switches, or use other sources for ignition.
Call 911 From a safe distance and Avista for immediate assistance.
Not sure if a gas line was damaged? Use our free service that checks to be sure. Call Avista at (800) 227-9187.
About natural gas transmission pipelines
Avista's transmission pipelines are indicated by the use of pipeline markers which have a 24-hour emergency response number. These markers give the general route of the pipeline.
Not all line markers are dig markers
Avista's large natural gas transmission pipelines have above ground yellow markers which display a 24-hour emergency response number. These markers only indicate the general route of transmission lines, not their exact locations. Avista has many other distribution main lines and service lines that generally DO NOT have these markers. To be safe, always call before you dig. Transmission pipeline maps by county and zip code, including the names of pipeline operators, are available by registering with the National Pipeline Mapping System.
Documents