What To Do When There's a Natural Gas Leak or Emergency
Signs of carbon monoxide
It's odorless, colorless—and toxic.
Look for symptoms in people that mimic the flu, along with mental confusion and ringing in ears.
Be aware that a person may seem intoxicated, a sign of poisoning.
Look for pink skin, and red mucous membranes.
Evacuate the immediate area and call Avista.
What to do if there's a natural gas leak
Avista adds an odorant called mercaptan for faster detection.
It can produce poisonous carbon monoxide gas when burned improperly by malfunctioning equipment.
It's highly flammable and easily ignited by: matches, sparks, light switches, even telephones, radios, flares, two-way radios, doorbells, cell phones, automobile motors and other dialectical equipment can ignite it.
Vapors may form an explosive mixture with air.
Lighter than air and can migrate into enclosed spaces.
Evacuate the immediate area.
If necessary, turn the gas valve off at the meter or appliance. Do not turn it back on.
Do NOT turn off any valves at the main or regulator station.
What to do if natural gas is burning
Outdoors:
Park a safe distance upwind from reported gas leak. When parking and approaching the scene, look for sewer manholes as gas can migrate into the sewer.
Test for natural gas in manholes and sewers approaching the reported leak and never enter them.
Don't extinguish the fire unless lives are in danger. Outdoors, burning gas is unlikely to explode.
Check for gas accumulating in nearby buildings and sewers, and turn off systems that bring air into the building.
Don't use water on burning gas where it is escaping, but spray it on items around the combustible area.
Reroute traffic as necessary.
Indoors:
Keep surrounding combustibles wet with spray stream if you can't shut off the supply.
Shut off gas at the meter and inform Avista. If a gas fire continues to burn, the source is probably outside.
Leave the gas off. Only trained Avista personnel should turn it back on.
Check the surrounding area, including other buildings, for evidence of natural gas.
Evacuate the building.
Do not operate electrical switches or anything that can cause a spark.
What to do with a broken, severed or damaged gas pipe.
Turn off gas valves at the METER only. Do NOT turn it back on.
Stay away from plastic pipe. It carries a static electrical charge that causes leaking gas to ignite.
Evacuate the immediate area and stay upwind.
About natural gas transmission pipelines
Avista's transmission pipelines are indicated by the use of pipeline markers which have a 24-hour emergency response number. These markers give the general route of the pipeline.
Not all line markers are dig markers
Avista's large natural gas transmission pipelines have above ground yellow markers which display a 24-hour emergency response number. These markers only indicate the general route of transmission lines, not their exact locations. Avista has many other distribution main lines and service lines that generally DO NOT have these markers. To be safe, always call before you dig. Transmission pipeline maps by county and zip code, including the names of pipeline operators, are available by registering with the National Pipeline Mapping System. See the pipeline emergency training videos by Pipeline Association for Public Awareness.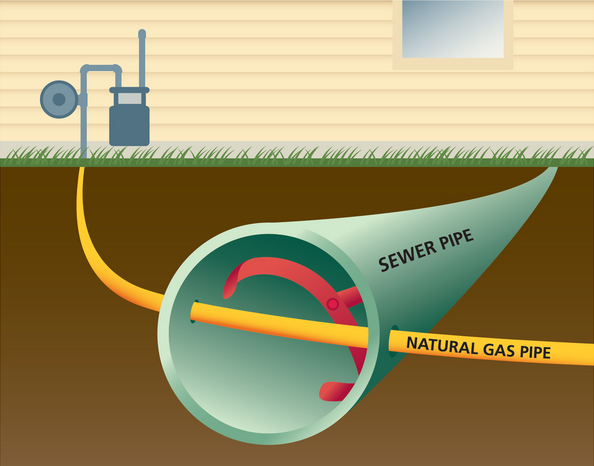 You may encounter a gas line that was inadvertently bored through a sewer line. If you're cleaning out a sewer line with a rooter device:
You may see these signs:
Bubbles rising through standing water or in the toilet bowl.
A strong natural gas odor at the cleanout or inside the building served by the sewer line.
Dirt blowing from a hole in the ground.
A hissing or whistling noise.
An area of dead vegetation.
Act quickly:
Evacuate everyone immediately and leave the building's door open.
Don't turn on or off any light switches, or use other sources for ignition.
Call 911 From a safe distance and Avista for immediate assistance.
Not sure if a gas line was damaged? Use our free service that checks to be sure. Call Avista at (800) 227-9187.
Emergency responders' guide to:
Carbon monoxide detector going off? Smell gas? Power outage?
Call (800) 227-9187