How your trees are pruned
Our vegetation management program takes a strategic approach to proactively patrol, prune, and remove trees to reduce tree-related power and natural gas outages.
Avista maintains over 21,000 miles of electrical lines spanning across four northwestern states, as well as nearly 8,000 miles of natural gas mains. We are committed to safeguarding the integrity of these systems so that our customers continue to receive safe and reliable energy.
How your trees are pruned
These pruning methods reduce the frequency and duration of tree-related power outages and aim to preserve your safety.
We concentrate our vegetation management efforts on two main approaches:
Routine tree maintenance involves directional pruning of trees entangled in or encroaching on our overhead power lines. This includes trees along roadsides and within state and county rights-of-way, corridors, and unmaintained areas. Trees addressed with this approach are pruned for a five-year line clearance. The diagram below illustrates the minimum clearance distances allowable for pruning.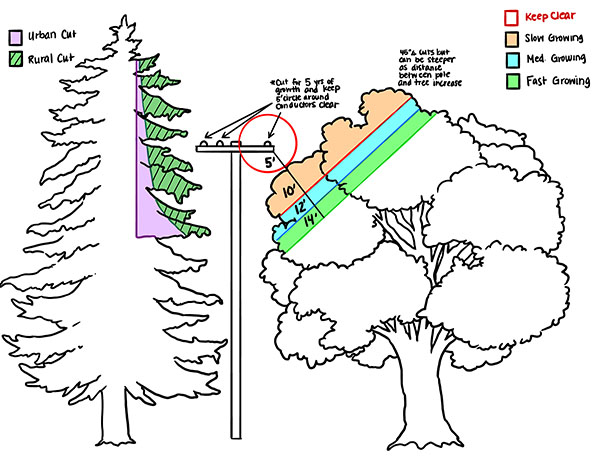 Directional pruning trims trees away from power lines, reducing the speed of regrowth by directing it away from the wire. It also ensures the retention of as much natural tree crown as possible. Although directional pruning methods are healthier and more aesthetically pleasing than older obsolete topping or shaping practices, they are more focused on safety than appearance.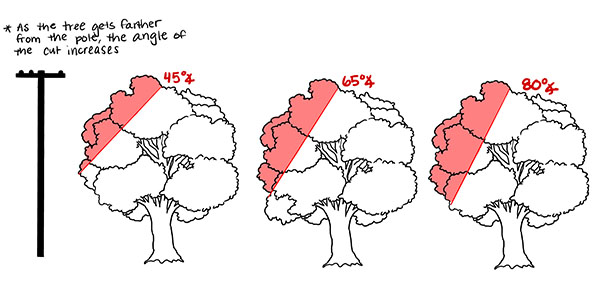 Clean up: Trimmed branches and debris will be chipped on-site and left for the property owner. Materials too large for the chipper will be piled for the property owner to address.
Risk tree mitigation identifies and removes visibly dead, diseased, dying or unstable trees near power lines. Trees removed as part of this approach pose an imminent safety or reliability threat to you, your neighbors and the community.
Risk trees are identified as those encroaching on a 10 feet clearance of the distribution and transmission lines. If tree removal is necessary, Avista will contact the property owner before acting.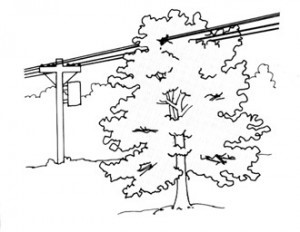 Clean up: Trimmings and debris are left as-is for the property owner to handle. No clean-up is provided as the purpose of this program is to immediately improve customer and property safety while reducing risks such as fire.
Storm clean up: Property owners are responsible for all trimming and debris clean up resulting from weather and/or storm events. During events like these, our crews are focused on immediate risk mitigation to allow for safe service restoration.
You many notice trees around power lines that haven't been pruned. Here's why:
Our tree trimming standards are set forth by the International Society of Arboriculture (ISA) Best Management Practices Manuals and the American National Standards Institute ANSI A300 Utility Pruning Standards.
Although we allow other utilities to use our poles, we do not trim around their equipment. These lines are owned by telecommunications, cable tv or telephone companies and are subject to their own clearance standards.
Avista does not prune vegetation around the service wire, which runs from a nearby pole to a home or business. This is the homeowner's responsibility to maintain and prune the vegetation that have entangled in or is encroaching upon this wire.
We can help
Although we do not trim around the service wire, we are happy to safely assist by de-energizing the line and temporarily removing it. This allows customers time to safely trim vegetation themselves or with the help of a licensed contractor. Service drops, including reconnection, are provided at no cost and are available Monday through Friday between 8 a.m. and 3 p.m. Customers interested should contact us at least three business days in advance by calling (800) 227-9187.