Ideas to keep your home cool
As outside temperatures begin to warm, there are easy and inexpensive actions you can take to help keep indoor temperatures cool and keep your energy affordable through these summer months. The smaller the difference between your indoor and outdoor temperatures, the lower your overall cooling will be.
Energy saving tips for keeping your home cool
Ways to Save Energy while staying cool
Keep your cooling system and thermostat running efficiently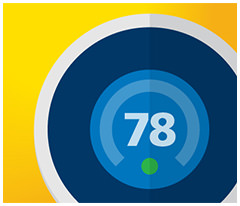 Program your thermostat. Adjust temperature settings according to a preset schedule. This way you can warm up or cool down your rooms when you know you'll be awake or at home. Programmable thermostats avoid discomfort by returning temperatures to normal before you rise in the morning or before returning home.
Adjusting your thermostat by just three degrees can result in an approximate 10% energy savings. Consider a Wi-Fi enabled smart thermostat that learns your settings.
Please note: Programmable thermostats are not recommended for heat pumps, electric resistance heating, steam heat, and radiant floor heating.
Set your thermostat as high as you can and still maintain comfort.
Check furnace filter. Check filters at least once a month; clean or replace them when dirty. Don't forget to check your furnace filter in the summer too! If the air quality is poor or we have smoke in the air, you'll likely need to check and replace your filters more often. Changing your furnace filter helps save energy by helping it run more efficiently.
Bring in a professional. A qualified serviceman should check heating and cooling equipment at the beginning of each season to ensure efficient operation.
Heat Pumps
Heat pumps provide gradual heating or cooling. You may not feel air moving, but it is working. Here are some tips for the most efficient heat pump operation:
Do not program temperature setbacks. Minimize changes to temperature set points.
Check dust filters at least once a month; clean when dirty.
Run the heat pump in cooling mode during the summer. Do not run heat pump on "auto" to avoid heating overnight.
Run fan speed on "auto" to optimize fan speed.
Keep outdoor unit clean. Keep shrubs and weeds away from unit.
Use fans and ventilation methods to cool your home
Fans can provide additional cooling and better circulation so you can raise the thermostat and cut down on air conditioning costs.
Look for ENERGY STAR® certified ceiling fans that can do an even better job, moving air up to 20% more efficiently than conventional models.
Most fans have a switch to change the fan direction. Make sure ceiling fans are blowing downward in the summer (in a counterclockwise direction) to send air past your body.
Try to operate fans only in occupied rooms and turn them off when you leave. Fans can cool people, not things.
Use windows that open to bring cool air in and push hot air out.
When using the shower or bath, use the bathroom fan to remove humidity from your home. Make sure your fans are vented to the outside, not just to the attic.
Find ENERGY STAR® ventilating fans
Consider a range of appliances and lighting options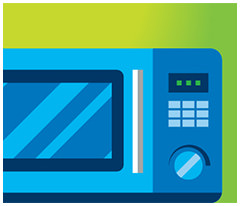 Use ENERGY STAR® qualified appliances.
Plan to prepare a meal that uses your outdoor BBQ, crock-pot, insta-pot or microwave instead of cooking on your indoor stove or oven.
Use heat producing appliances such as dishwashers, ovens, ranges, and dryers after 7:00 p.m., if possible or consider drying clothes outside or indoors on a foldable drying rack.
Set the temperature in your refrigerator between 37 and 40 degrees.
Keep your freezer section at 5 degrees. If you have a separate freezer for longer-term storage, it should be kept at 0 degrees.
Clean the lint filter in your dryer after every load.
Vacuum your refrigerator's coils, located at the back or underneath your appliance. Regular cleaning can improve the efficiency of your refrigerator by up to 15% or more.
The bathroom vanity is one of the highest-use fixtures in the average home. ENERGY STAR qualified LEDs provide bright, warm light, use less energy, and generate less heat than standard lighting.
Keep heat and hot air out of your home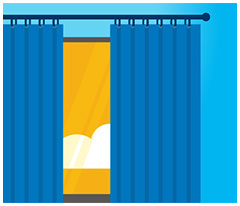 Keep drapes and blinds closed during the day. Block out heat from the sun.
Landscape with shade trees or vines or install awnings on south-facing windows to reduce heat from the outside.
Block drafts. Check caulking and weather stripping around windows and doors. If you see cracks, light, or feel a draft, make repairs where needed. An 1/8" gap around a door is equivalent to a softball-sized hole in the wall. Install rope caulk, and door sweeps to keep the cold air in and the warm air out.
Seal leaks. Ductwork exposed to outside air or in unconditioned spaces should be wrapped securely with insulation; joints and connections should be sealed with tape or brush on duct joint sealant.
Lower your water heating costs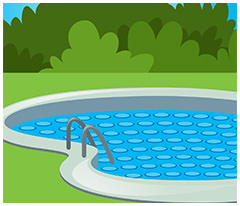 Water heating accounts for about 18% of the energy consumed in your home. The Consumer Product Safety Commission recommends setting your water heater at no more than 120 degrees F to prevent scalding. The lower setting will also conserve energy and save money.
Washing machines can be switched to cold-water washing.
Pool and hot tub covers can help save up to 90% on heating costs. In addition to helping to minimize nighttime heat loss, pool covers also help prevent chemical loss and water evaporation.
Air Quality Considerations
If using your air conditioner set it at 78 degrees.
Select an ENERGY STAR® certified air purifier.
Check and replace your furnace filter more often.
Tools to understand your usage
Available Programs
What factors impact my bill?
The arrival of sustained high temperatures during summer months means cooling systems run more frequently and for longer periods of time, dramatically increasing energy use. This is important to know given that the cost of cooling your home can make up 40%-60% of your monthly summer bill.
The number of days in a billing cycle can vary month-to-month, ranging from 27 to 35 days. This variation is due to the actual number of days in a month, the timing of weekends and holidays, and the accessibility of our meter. Longer billing cycles can result in higher bills.
Energy Assistance and Payment Plans. There may be assistance or payment plans available. Visit our assistance page for more information, including energy assistance grants, payment plans, and more.
Flexible due date. In some cases we may be able to adjust your due date. Contact us for more information.
Comfort Level Billing. Comfort Level Billing can even out the seasonal highs and lows of your bill by dividing your yearly energy use into equal monthly payments. Learn more
Find a cooling center near you. Dial 211 for additional resources. Oregon: (866) 698-6155, (877) 211-9274 or 211info.org Idaho: (800) 926-2588 or 211.idaho.gov Washington:

Eastern Washington (Ferry, Stevens, Pend Oreille, and Spokane Counties): (877) 211-9274 or win211.org
Adams, Lincoln, Asotin, Whitman, Klickitat and Grant Counties: (866) 904-9060
Skamania County: (866) 698-6154
211 info is a community-based nonprofit organization funded by state and municipal contracts, foundations, United Ways, donations and community partners in Oregon and Southwest Washington.