It's common to think that we can raise our rates whenever we want, but in fact, the opposite is true. Here's the detailed and regulated process that follows a rate request.
Speaker 1: It's a product you almost never think about but you count on it 24 hours a day, seven days a week: energy. Flip the switch, the lights go on. Turn on the gas, now you're cooking. It's our job at Avista to deliver that energy safely and reliably every day. You may have heard about a rate case we filed and wondered: so what is a rate case anyway? 
A rate case is the way we request to change prices or rates to recover our cost of delivering your electricity and natural gas. We're regulated by three state utility commissions, so before we can adjust our prices we must make the case that current rates are not sufficient to cover our costs. That's different from the way most companies operate. When costs change for, say, a gas station owner, he simply adjusts his price for a gallon of gas, sometimes even on a daily basis. But because we're regulated, we can't change prices whenever we see the need. We must first file a rate case to explain why our expenses are outpacing our income.
While we work hard to keep those expenses down, the cost of delivering energy continues to go up, costs like all the equipment and people it takes to maintain thousands of miles of pipes and wires, or repairing damages and restoring service after storm outages, or investing in upgrading and optimizing our system. It can add up to millions of dollars every year.
As part of this process, we conduct extensive analysis and provide thousands of pages of documents to regulators and other parties when we file a rate case. Depending on the state, regulators have between seven and 11 months to review the details and make a final ruling, setting rates that are fair and reasonable both for customers and for Avista.
It takes a lot to deliver the electricity and natural gas you rely on every day. Now, if you hear about a rate case, you'll know the role it plays in delivering that energy. You can be sure the next time you flip the switch or turn on the gas, it will be there. 
How rates work
The rates you pay for energy cover two types of costs:
The cost of generating or purchasing energy;
The cost of delivering that energy to customers.
Electricity: An average of $2.69 a day (or 11 cents per hour).
Natural Gas: About 7 cents per hour.
Yes. Utility commissions in each state set the prices you pay for energy.

No. Rates can only be changed with approval from state public utility commissions. It's a carefully regulated process that typically takes several months.

Avista files a request with the commissions any time there is a need to adjust rates. The commissions in charge (Washington, Idaho, Oregon) investigate the request and follow the following steps:
Scrutinize costs or part replacements, upgrades, and more
Review thousands of pages of information about the projects, business cases, or items we are requesting to include recovery for in rates
Invite public testimony and review comments
The commissions then determine and set fair and reasonable rates.
Residential electric bill comparisons
You can see our effort to keep rates low in the Northwest when you compare them to national averages:
Avista Idaho: $102.6
Avista Washington: $89.96
US Average: $137.62
Here's a detailed breakdown: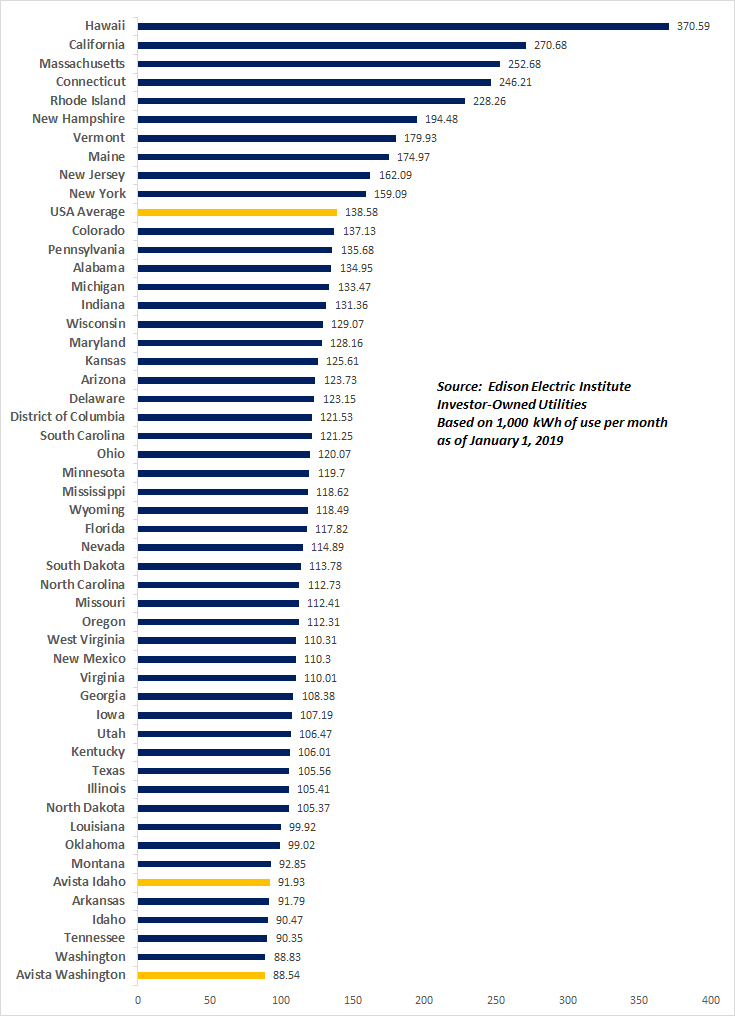 What's the cost breakdown?
In your bill:
50 percent of your bill pays for the generation of the electricity you use – the actual cost of turning water, gas, or wind into power.
50 percent covers the costs to safely and reliably deliver that energy to your home or business.
Where does Avista spend the money it uses from rates?
Equipment, maintenance, and planning. We're fortunate to own and operate the majority of the power we generate. This gives us more control over the entire energy-delivery process, from generation to transmission to distribution. Here's how we focus on upkeep to ensure the systems work efficiently:
Replacing power lines, poles, transformers, substations and more, many of which have been in operation for 70 years
Upgrading hydroelectric turbines
Keeping vegetation clear of our more than 18,000 miles of power lines
Inspecting and maintaining over 240,000 wooden poles
Managing a transmission system that meets national reliability requirements and can carry additional power
More resources