No-Cost/Low-Cost Energy Saving Tips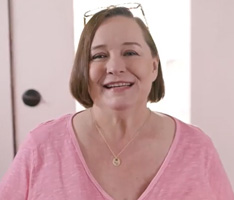 Avista's At Home with Lisa Video Series
See how easy it can be to save energy and increase comfort in your home. Watch Lisa, an Avista customer, as she shares her own low and no-cost DIY journey to a more efficient home.
Do-it-yourself videos
How to Save Energy at Home
Those chores you do every day? The dishes. The laundry. The cooking. They all help determine the amount of your energy bill. Here's some tips to help manage your energy usage at home.
Block drafts. Check caulking and weather stripping around windows and doors. If you see cracks, light, or feel a draft, make repairs where needed. An 1/8" gap around a door is equivalent to a softball-sized hole in the wall. In the winter, install window plastic, rope caulk, and door sweeps to keep the cold air out and the warm air in.
Seal leaks. Ductwork exposed to outside air or in unconditioned spaces should be wrapped securely with insulation; joints and connections should be sealed with insulation tape.
Use baseboard and space heaters properly. With baseboard and wall heaters, practice "zone heating" by turning heat down in unoccupied rooms. Shut doors to unoccupied rooms, too. Only use space heaters in occupied rooms and for supplemental heat. Continuous use of just one small 1500-watt heater can cost over $100.
Close fireplace damper. When not in use, close fireplace dampers to prevent 25% of the heat in your home from escaping out the chimney.
Check furnace filter. Check filters at least once a month; clean or replace them when dirty.
Bring in a professional. A qualified serviceman should check heating and cooling equipment at the beginning of each season to ensure efficient operation.
Use drapes or shade. Window coverings are one of the easiest ways to help insulate your house. Keep them closed on cold days and open on sunny days.
Use fans in the summer. Try using fans in the summer before switching on the air conditioning. Old A/C equipment can be equivalent to using 30 or more fans. If you must use your air conditioner, set it at 78° F; each degree over 78° in the summer will save you approximately 3% on your energy bill.
Program your thermostat. Adjust temperature settings according to a preset schedule. This way you can warm up or cool down your rooms when you know you'll be awake or at home. Adjusting your thermostat by just three degrees can result in an approximate 10% energy savings. Consider a Wi-Fi enabled smart thermostat that learns your settings.
How to conserve oven energy:
Stagger pans on upper and lower oven racks. The improved air flow allows food to cook more quickly and efficiently because air can circulate freely.
Use glass or ceramic pans in ovens. Then you can turn down the temperature about 25 degrees and foods will cook just as quickly.
Use a timer. Don't open the oven door frequently to check the food, because each time you do the oven temperature drops by 25 degrees.
How to conserve dishwasher energy:
Run only a full dishwasher on the automatic energy-savings cool-dry cycle. If it doesn't have this feature, turn it off after the final rinse and let the dishes air dry.
How to conserve refrigerator/freezer energy:
Keep your refrigerator closed while deciding what to eat. Each time you open the fridge door, the compressor has to run for eight to ten minutes to keep the cold inside.
Set the temperature in your refrigerator between 37 degrees and 40 degrees.
Keep your freezer section at 5 degrees. If you have a separate freezer for longer-term storage, it should be kept at zero degrees.
Vacuum your refrigerator's coils, located on the back or underneath your appliance. Regular cleaning can improve your refrigerators efficiency up to 15% or more.
Refrigerator
Adjust the temperature. Set your refrigerator between 37 to 40° F and your freezer between 0 to 5°.
Keep the refrigerator door closed. Know what you want out of the refrigerator before you open the door. An open door is wasted energy.
Defrost freezer. Defrost when ice is ¼" thick.
Clean refrigerator coils. Keep coils clean to keep your refrigerator in peak operating condition. They may be behind or below the fridge.
Cover and wrap food. Uncovered foods and liquid release moisture, which makes the fridge work harder.
Fill it up. A full refrigerator or freezer uses less energy. Fill with jugs of water to take up space.
Range / Oven
Keep racks clear. Keep racks clear. It's tempting to line oven racks with foil to keep things clean, but don't do it. The hot air needs to be able to circulate to cook food efficiently.
Use lids. When cooking, lids keep heat and steam in and help food cook more quickly, which saves energy.
Clean the burner pans on your stove. When clean, burner pans will reflect heat back up to pots and pans.
Don't peek. You lose heat every time you open the door or lift the lid.
Use the smallest pans possible. It takes less energy to heat smaller pans. Try to match the size of the pot or pan to the size of the burner and cover pots when cooking.
Dishwasher
Fill it up. It costs exactly the same to wash one dish as it does to wash a full load of dishes.
Scrape dishes instead of pre-rinsing them. Dishwashers made in the past five to ten years can clean even heavily soiled dishes without pre-rinsing.
Use air-dry options. Keep your machine from using a heating element to bake your dishes dry and opt to air dry your dishes instead.
Laundry
Select cold water. Hot water only needs to be used for very dirty loads.
Only run full loads. The machine uses about the same amount of water whether you wash a full load or just one item.
Hang it up. Instead of using the dryer, dry clothes outside in good weather—sunlight is free.
Clean the lint filter after every load. Clogged filters drive up drying time and costs.
Turn your air-conditioning off in summer. Use box fans to keep cool.
If you do use air-conditioning:

Increase the setting on your thermostat. This is the best way to save the greatest amount of energy in the summer.
Programmable thermostats can be used to adjust temperature settings several times per day on a preset schedule.
Set your thermostat as high as you can and still maintain comfort.

Keep drapes and blinds closed during the day. Block out heat from the sun.
Use heat producing appliances such as dishwashers, ovens, ranges, and dryers after 7:00 p.m., if possible.
Remove, clean and store window air conditioning units when possible; otherwise they will be conduits for cold air.
Use your outdoor BBQ instead of cooking on your range.
Be sure your attic, walls, and crawlspaces are adequately insulated.
Use small electric appliances or a microwave for cooking instead of your stove or oven.
Landscape with shade trees or vines or install awnings on south-facing windows to reduce heat from the outside.
Ceiling and other fans:

Fans can provide additional cooling and better circulation so you can raise the thermostat and cut down on air conditioning costs.
Look for ENERGY STAR® certified ceiling fans that can do an even better job, moving air up to 20% more efficiently than conventional models.
Most fans have a switch to change the fan direction. Make sure ceiling fans are blowing downward (in a counterclockwise direction) to send air past your body.
Set your thermostat no higher than 68 degrees. Lower it an extra five degrees at night or when leaving your home for an hour or more.
Let natural sunlight into your home. Open window coverings on south-facing windows. Keep window coverings closed in rooms that receive no direct sunlight to insulate from cold window drafts. At night, close window coverings to retain heat.
Clean or replace your furnace filters monthly. During non-winter months, every three months is sufficient.
Install a programmable thermostat. Adjust temperature settings according to a preset schedule.
Find and plug draft leaks in windows and doors. Seal leaks next to moving parts (between a door and its frame) with weather stripping. Fill leaks between non-moving parts (a window frame and wall) with caulking. Seal light switches and sockets with high-density foam gaskets. Consider having drafty windows replaced.
Check your fireplace. Make sure it's properly vented. Your fireplace will draw heated air from inside your house if there isn't a proper amount of outside air for combustion.
Put in a ceiling fan with an option to reverse the air flow. Set the direction the motor turns so you can blow the warm air back down into the living space.
Set the temperature on your hot water tank to 120 degrees. Extremely hot water can lead to higher energy costs and even scalding accidents.
Check your hot tub cover for escaping steam. Insulation blankets help keep the tub toasty.
Keep showers short. A short shower uses less hot water than a bath. Try to keep your shower to no longer than five minutes.
Fix leaky faucets. A small drip can be the equivalent of wasting a bath tub full of hot water each month.
Insulate water pipes. It's easy and will prevent hot water in the pipes from cooling too quickly.
Replace washers on faucets that drip. A leaky faucet can waste 2,500 gallons of hot water per year at a rate of one drip per second.
Install a low-flow shower head. Choose one with no more than 1.5 gallons per minute to reduce your home water consumption and water heating cost by as much as 50%.
Wash laundry in cold water. In top-load models, about 90 percent of the cost per load is to heat the water.
Do laundry after 7:00 p.m. This reduces unwanted heat and humidity in your home.
Dry clothes outside on a line. Less heat from a dryer for less energy usage.
Wash only full loads in your washing machine. Adjust the water level as needed.
Clean the lint filter in your dryer after every load.
Turn it off. Turn off lights when you are not using them.
Make the switch. Change out all regular incandescent lamps with ENERGY STAR qualified LED bulbs if they are used more than two hours per day.
Keep bulbs clean. Dust can cut light output by as much as 25%.
Dispose of your used bulbs properly. Recycle your old CFLs at a participating recycling center near you.
Kitchen
Smaller is better. For small meals, utilize the microwave, toaster oven, electric pans or other kitchen gadgets to avoid heating up the whole oven for one toasted cheese sandwich.
Skip the oven. In warm weather, cook outdoors on a grill.
Shut off kitchen fans. While fans are great for removing smells from the kitchen, they also remove heat. Shut them off when you don't need them.
Unplug it. Your toaster should only be plugged in when you are using it.
Family Room / Living Room / Office
Unplug it. Battery chargers or power adapters for devices like cell phones, eBooks and more may draw power even when they're not in use—don't let them.
Use power strips. Plug your video game consoles, stereo, DVD players and any other home electronics into a single power strip so you can switch it off and cut all power to items at once.
Try "smart" power strips. They can help reduce your power usage by shutting down power to products that are not in use or that go into standby mode.
Turn computers off. Sleep modes save energy, but it's better to use none. Turn off the monitor if you'll be away for 20 minutes or more, and turn off your computer if you'll be away for 2 hours or longer.
Hot tubs. Check the condition of your cover for escaping steam and use insulation blankets in the winter to keep the water nice and toasty.
Heated shops. Heated garages and outbuildings are easy to forget about in the winter and can contribute to a lot of extra energy use.
Heated driveways. Although these come in super handy in the winter, they too can contribute to a large increase in energy consumption.
RV use. Plugging an RV into your home's electrical system can increase energy use dramatically, especially during the winter when its heating system works overtime to keep the unit warm.
Holidays. Extra house guests mean extra cooking, dishes, laundry and showers. This extra activity also means extra energy use. Be sure to use LEDs for any holiday lighting décor, as the energy used by just one regular bulb can power 140 LEDs. If you're planning to be away from home for an extended period of time, lower your thermostat and water heater temperature to prevent unnecessary energy use.
School breaks. Having kids home during the day may mean that lights are on more often, additional electronics are plugged in or charging, and the thermostat is adjusted to maintain a comfortable temperature. All of these activities use more energy.