Tips for saving energy with LED lighting
Now's the time to switch to LED lighting.
LED stands for light emitting diode. Compared to incandescent bulbs, LEDs perform better, last longer and use less energy.
LEDs last up to 10x longer than incandescents.

Incandescent
Wattage: 60 watts
Lifespan: 3.7 years*
*based on 3 hours per day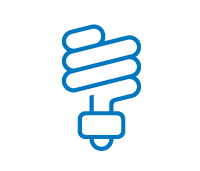 CFL
Wattage: 15 watts
Lifespan: 10.96 years*
Energy savings: Uses 75% less energy than incandescents
*based on 3 hours per day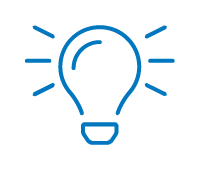 LED
Wattage: 9 watts
Lifespan: 13.7 years*
Energy savings: Uses 85% less energy than incandescents
*based on 3 hours per day
How to choose the right LED
Things to consider when choosing LEDs for your home:
Light fixture compatibility: Most LED bulbs are designed to fit common home lighting fixtures. If your lighting fixture is enclosed, be sure to choose a LED that is rated for enclosed fixtures to prevent premature burnout due to inadequate heat dissipation. You can find rating information on the bulb's packaging.
Dimmer switches: Dimmer switches designed for incandescent bulbs will not function properly with LEDs. It is necessary to use dimmer switches specifically for LEDs and to use dimmable LED bulbs.
Wattage: LEDs put out a similar amount of light (lumens), while using much less power (wattage). When replacing an incandescent or CFL bulb with an LED, the LED's wattage will be much lower.
Color: LEDs offer a multiple color options, ranging from cool blue and white light to warmer yellow tones, like traditional incandescents. Refer to the image below, when deciding which color is best for your home.
Replacing traditional incandescent bulbs with ENERGY STAR® LEDs is an easy way to start saving energy. Save more when you:
Turn the lights out when you leave a room. Make this happen automatically with motion sensors.
Use timers when on vacation.
Take advantage of natural light and turn off artificial lighting, when possible.
Find more lighting tips in our Energy Use and Savings Guide.